Discovering Kenwood
Kenwood is a breathtakingly beautiful rural community located in the heart of Sonoma's Valley of the Moon.  Kenwood is an hour north of the Golden Gate Bridge, 70 miles from San Francisco International Airport and is located on State Route 12, designated a California Scenic Route between Sonoma and Santa Rosa, and just minutes from the charming village of Glen Ellen.  Kenwood is renowned for its premium vineyards and award-winning wineries.  Visitors come from all over to dine at select restaurants in this enchanting place.  The beauty of this highly sought location is enhanced by spectacular mountain and valley views.  In fact, the stretch of Highway 12 through the village of Kenwood with its breathtaking hilltop vineyard and valley views offers quintessential wine country scenery.  Explore rambling country lanes and visit rustic family-owned wineries and vineyards.  Visit some magnificent winery estates such as Chateau St. Jean with its splendid gardens reminiscent of Tuscany, and Ledson with its signature castle and dramatic grounds.  Annadel State Park, Sugarloaf Ridge State Park (which includes the Valley of the Moon Observatory), Jack London State Park and Hood Mountain Regional Park are minutes away featuring miles of hiking, biking and equestrian trails   Kenwood is six miles to the village of Glen Ellen, 12 miles north of the town of Sonoma, 16 miles to central Napa Valley (Oakville) and 26 miles to Healdsburg, the crossroads of Russian River, Dry Creek and Alexander Valleys.   Brambleberry and Kenwood are an ideal central location for touring and wine tasting in Sonoma and Napa Valley.
Wineries
Kenwood
Chateau St. Jean
Breathtakingly-beautiful castle and grounds reminiscent of Tuscany set against picturesque mountains.  Wonderful wine and my favorite winery gift shop.  Two minutes from Brambleberry.
Deerfield Ranch
Specializing in hand-crafted and cleanly made wines.  Award-winning: 32 gold, 48 silver and two bronze medals in 41 national and regional competitions!  Don't miss the tasting room deep in the mountain side – it's quite memorable!  Five minutes from Brambleberry.
Kaz Vineyards & Winery
Rated best boutique winery in all of Napa and Sonoma by the Wall Street Journal.  The barn houses the smallest tasting room in Sonoma County.  Meet the colorful owners and taste some unusual organic wines.  The owner guarantees that you can't get a headache or hangover from his wine!  It's always a fun visit and child-friendly.  Two minutes from Brambleberry.
Kenwood Vineyards
Good value wines; many locals shop here for everyday wines.  Tasting room is in a charming barn.  Five minutes from Brambleberry.

Kunde Family Estate
Family-owned for five generations and situated in a stunning setting.  Don't miss the cave tour.  In addition to spectacular wine, Kunde is a pioneer in eco-farming.  Six minutes from Brambleberry.
Landmark Vineyards
Landmark, owned by the John Deere family, epitomizes the rustic charm of Sonoma.  Sample fine wines in an elegant tasting room.  Two minutes from Brambleberry.  Horse-drawn wagon rides through the vineyards on Saturdays in summer and fall.
Glen Ellen

Benziger Family Winery
Best winery tour according to Wall Street Journal.  Take a tractor-pulled tram through the glorious vineyards and complete the tour in the wine cave.  Sample world-class wines at affordable prices in the vast tasting room.  Ten minutes from Brambleberry on scenic backroads.

B.R. Cohn
Ultra-premium Cabernet Sauvignon and other award-winning reds.  Produces high-end California olive oil and vinegars.  Magnificent grounds.  Ten minutes from Brambleberry.
Imagery
Great wine-label art collection!  Play bocce ball after tasting spectacular and rare varietals.  Ten minutes from Brambleberry.
Wellington
A very small, family-owned winery that makes awesome wines.  The Wall Street Journal termed it "one of Sonoma County's best wineries".
Santa Rosa

Ledson Winery & Vineyards
Visit a dramatic castle set in vineyards against stunning mountains – only five minutes from Brambleberry. Enjoy a picnic on the impeccable grounds with gourmet fare from their well-stocked market.  The wines are award-winning, you can sample them in the beautiful tasting bars.

St. Francis Winery & Vineyards
Nationally renowned and worth visiting for wine and food pairings while enjoying stunning vineyard and mountain vistas.
Restaurants
Caffe Citti
A must visit! Charming, cozy and reasonably-priced Italian restaurant open for lunch and dinner.  Bring a local wine and there's no corkage fee!  Dine by the stone fireplace in fall or winter and sit outside in the patio during the season.  Homemade pasta, desserts from scratch, daily specials, noted for roast chicken and the most fantastic Caesar salad of all time.  Very kid-friendly and good for take-out.  Two minutes from Brambleberry.

the fig cafe and wine bar
A local favorite and there's no corkage!  A value-priced spinoff of the famous girl and fig restaurant in the town of Sonoma, it serves rustic, country French fare with wonderful daily specials including pizza and "comfort food".  Ten minutes from Brambleberry on beautiful backroads.
Grocery Stores
Kenwood Market and Deli, 9592 Sonoma Hwy, Kenwood
Great for light and high-end grocery shopping, outstanding wine selection, meats and fabulous deli offerings ranging from homemade banana nut bread, fresh sandwiches to lasagna and baked salmon.  Great take-out options for picnic, lunch or dinner.
Oakmont Market and Deli, 6550 Oakmont Drive, Santa Rosa
Also featuring upscale food and amazing deli with take-out options for picnic or dinner.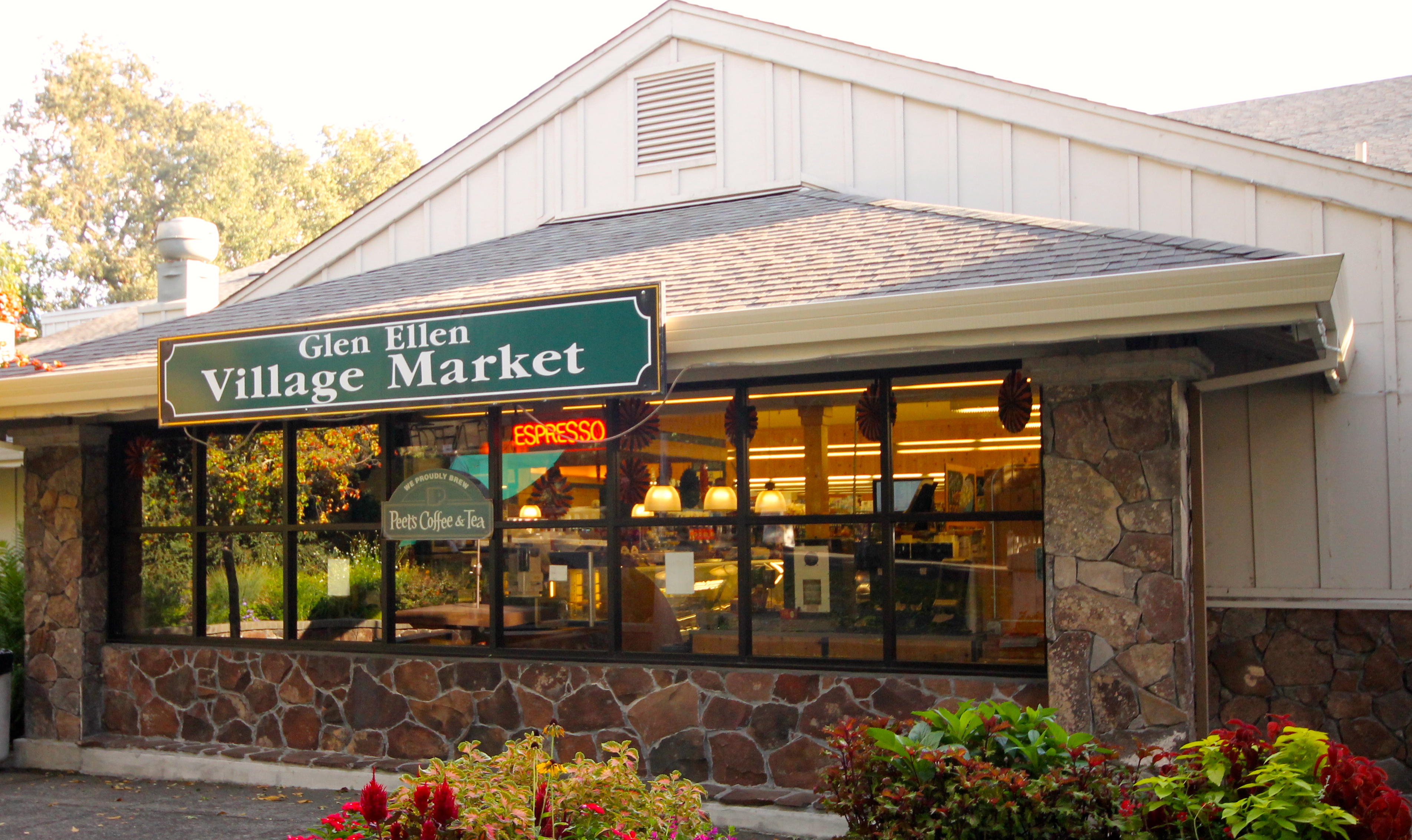 The Glen Ellen Village Market, 1351 Arnold Drive, Glen Ellen
Six miles from the house!  For serious foodies – beautiful food and deli has phenomenal selection for picnics and take-out.  Coffee bar, food service, specialty food, smoothies… a must visit!  Ten scenic minutes from Brambleberry.
Safeway, 100 Calistoga Road, Santa Rosa
While a mere six miles distance, why not order ahead online and have groceries delivered to the country house?  Open 24 hours.
Shopping
Swede's Feeds
This colorful roadside store is a must visit!  It is rare for us to go to Kenwood without a pilgrimage to Swede's Feeds – my children, or our guests, would never forgive me.  No matter how hard I try to resist, I always find something interesting to buy.   It's the hub of local Kenwood social life and you can find almost anything here:  livestock and pet supplies, plants, vegetables, garden supplies, garden fountains and furniture, cards, books, interesting gift items – even local specialty foods and baby chicks.  The owners and staff are friendly and helpful with advice ranging from taking care of your pets to gardening tips.  Be sure to visit the animals in the back – a stunning assortment of colorful chickens, bunnies and goats.  Look for the unique and dramatic metal garden sculptures hanging over the fence on Highway 12.  You'll get a kick out of the huge dinosaurs.
Culinary Adventures

Sonoma Farmers' Market on the Historic Sonoma Square Tuesdays from 5:30 p.m. to dusk April through October. Local produce, fancy food, local crafts and entertainment.  Plan a picnic dinner or buy the irresistible food there and enjoy music on the square.

Historic Jack London Village, 14301 Arnold Drive, Glen Ellen
This village featuring a food lover's paradise, housed in an old mill with a  working water wheel to boot, has a wonderful selection of shops.